Lowers blood lipid levels by modulating key enzymes in the liver responsible for cholesterol biosynthesis.
Helps prevent the hardening of blood vessels by reducing lipid accumulation in the arteries. Potent antioxidant properties eliminate free radicals that trigger imbalance in the normal ability of blood vessels to constrict and dilate, promoting normal artery vasodilation. Prevents platelet aggregation and formation of thrombus (blood clot) which impairs normal blood flow in the arteries.
Composition:

Each tablet contains: Lasuna (Allium sativum) bulb extract - 250 mg

Good to know:

- 100% vegetarian.
- Free from sugar, artificial colours, artificial flavours, preservatives
- Halal certified

Special Instructions:

Please inform your physician before consuming in the following situations:
- Pregnancy
- Breastfeeding
- Diabetes
- Hypertension
- Specific contraindications have not been identified.
- Please consult your physician if symptoms persist.

Ideal For:

Raised cholesterol levels (dyslipidaemia). Narrowing of peripheral blood vessels.

Directions for Use:

1 capsule twice daily after food.

Benefits:

- Supports healthy cholesterol level
- Improves blood circulation
- Balance cholesterol levels
- Promotes overall health

Key Ingredients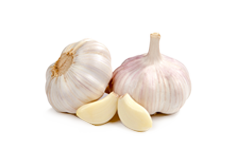 Lasuna
Known to promote heart health, Lasuna (Garlic) is used as a supplement to improve blood circulation. It is useful in maintaining healthy cholesterol levels.