Ensures optimum breastfeeding
A prized herb in Ayurveda used for thousands of years as a female reproductive tonic.Supports lactation in new mothers by improving prolactin hormone levels, ensuring optimum breastfeeding. Helps overcome fatigue, promotes physical and mental health and supports and rejuvenates the body post-delivery.The phytoestrogens help in restoring hormonal balance in women who have fluctuating hormonal levels due to menstruation and menopause, alleviating pre-menstrual and menopausal symptoms.
- Free from sugar, artificial colours, artificial flavours, preservatives
- Halal certified

Directions for Use:

1 capsule twice daily after food.

Benefits:

- Supports women's health
- Supports healthy production of breast milk
- Female nourishing tonic
- Helps relieve pre-menstrual discomforts
- Helps relieve menopause related discomforts
Key Ingredients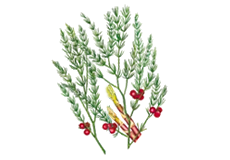 Shatavari
Shatavari (Asparagus racemosus) is a popular herb, aptly called the "Female Health Formula". It has been traditionally used to enhance women's health and to support lactation. A gentle nourishing tonic for women.